Unbroken
I am reading my way through 100 books this year. Sometimes books from my favorite authors make the list, sometimes books are recommended to me by friends and sometimes Pinterest provides the inspiration.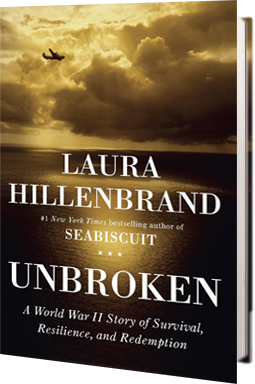 I love stories of people who persevere, so when I read the following description I knew I had to add this to my bedside table stack.
"On a May afternoon in 1943, an Army Air Forces bomber crashed into the Pacific Ocean and disappeared, leaving only a spray of debris and a slick of oil, gasoline, and blood. Then, on the ocean surface, a face appeared. It was that of a young lieutenant, the plane's bombardier, who was struggling to a life raft and pulling himself aboard. So began one of the most extraordinary odysseys of the Second World War."
Without planning it, last week's reading included several military recountings. Unbroken was one I could not put down. The words and photos brought a deeper understanding of the hardships of air combat and wartime imprisonment. Hillenbrand's use of language brought to life the disappointments and triumphs of these men and their families. The research and extensive interviews of those involved is apparent by the level of detail in each of the individual stories threaded together within the book. The reader quickly becomes invested in the lives of men facing unimaginable hardships.
I rarely read books or watch movies which tell the story of a military man's experience in war time. Being married to an airman means I need little help in imagining the possibilities he faces because of his commitment to serve. Unbroken inspired my imagination in the resourcefulness of men. It also affirmed my gratitude for the instant communication possible with today's technology.
There is no way to describe my favorite elements of this story without giving away plot twists, but I assure you this story is a journey of military history, determination and growing faith.
Let me know what you think when you read it, I found my copy at the library.