A Steward of This Space
Recent statistics show there are approximately the same number of American moms with blogs as there are individuals in the country of Croatia. Any sane person would wonder how a single voice can be heard among the crowd.
Am I just contributing to the noise by sharing my words each week?
Like many, blogging started as a means to update family and friends strewn across the landscape. Soon the possibilities emerged for making money, getting free products, and gaining popularity through followers.
What I never expected was the joy of rediscovering my love of words.
Of the billions of hard or soft covers around the world, none hold my name in ink. Magazines do not include a column with my name at the bottom. Papers, white or any other color, are not referenced because of my keyboard.
Despite those things, I am a writer.
My journals are filling with ink again. My supply of stamps and envelopes dwindles each week as words of encouragement journey between mailboxes. This little, unspectacular corner of the web expresses my life through the use of twenty-six letters and punctuation.
God is using my words, this space, to share what He is doing in my life, in the hope that it will encourage you.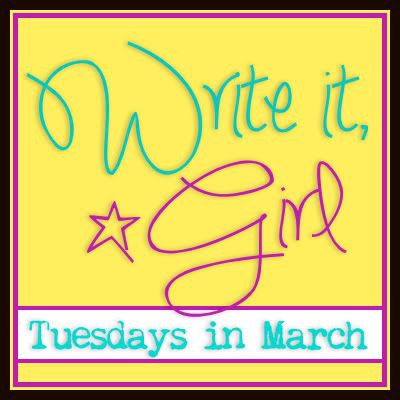 Being a steward of the words He gives me, of this space, of my time. That is what it means to be a Write It, Girl.